All-Physical Ultimate Defense Broad Spectrum Sunscreen SPF 50
A water & sweat resistant, oil-free, 100% mineral sunscreen that protects against UVA/UVB, photoaging, and pollution. This sunscreen is blendable with a lightweight dewy finish and layers well under makeup.
Bring the dermatologist office home
Daily broad spectrum sun protection that can keep with you! With 80 minutes of water & sweat resistance, tranexamic acid to fight hyperpigmentation, and a hydrating complex including Hyaluronic Acid, this high-performance sunscreen prevents signs of sun aging, dark spots, uneven skin tone, and fine lines no matter the activity.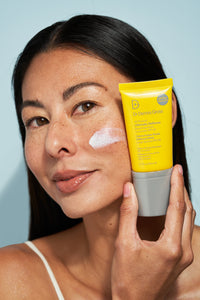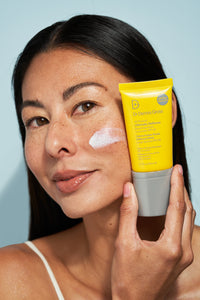 All-Physical Ultimate Defense Broad Spectrum Sunscreen SPF 50
How To Use
Prevent and repair sun damage
How To Use
Prevent and repair sun damage
Application
Massage a generous amount all over the face, neck, and décolleté 15 minutes before sun exposure. For full coverage, massage into the hairline, over the ears, and back of the neck. Reapply every two hours. or children under 6 months of age, consult a doctor.
The Experience
Lightweight, hydrating finish
In Your Regimen
Use daily in the AM as the final step in your skincare routine, after your moisturizer.
Frequently asked questions
A mineral filter that sits on top of the skin, scattering, reflecting, and absorbing UVA & UVB rays to help protect skin fromthe sun.

This product pairs great with makeup and can even be used as a primer!

Yes! This products works great with any strength of our Alpha Beta Daily Peels. We recommend using the peel after cleansing and layering your SPF as the final step in your routine in the AM.

Yes! This product is safe to use around the eyes.

This product is suitable for all skin types, including all Fitzpatrick skin types.

A numerical scale ranging from I-VI that indicates how skin responds to the sun. The lower the number on the scale, the higher your chance of burning, which directly correlates to the risk of skin cancer –types I and II are most at risk. While I and II are more likely to develop skin cancer, all skin types are susceptible and sun exposure increases that risk. Daily SPF, protective clothing, and avoiding the sun during peak hours are your best defense against early signs of aging and skin cancer.

This SPF is not known to cause irritation. Always consult your physician if you have specific concerns. Physical sunscreens, particularly zinc, is known to have a high safety profile and is GRAS (Generally Recognized As Safe) by the FDA.
Complete Your Routine
For Fresh, Clear Skin Daily
$39
Smooth wrinkles and increase radiance
$68
Lift, firm, and increase radiance
$75