Peel + Firm Kit
Reveal a smooth, plump, more radiant complexion with Alpha Beta® Extra Strength Daily Peel and the NEW Derminfusions™ Fill, Plump + Firm Serum
Total Price:
Bring the dermatologist office home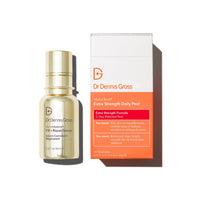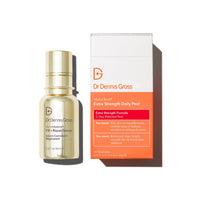 Peel + Firm Kit
How To Use
Visibly fill fine lines & wrinkles and restore skin's barrier
How To Use
Visibly fill fine lines & wrinkles and restore skin's barrier
Step 1
Massage Step 1 of Extra Strength Daily Peel onto clean, dry skin until pad is dry. Wait two minutes. Repeat with Step 2. Do not rinse.
Step 2
Massage 2-3 pumps of Derminfusions™ Fill, Plump + Firm Serum into full face, targeting wrinkles. Apply after your daily peel.
Frequently asked questions
Step 1 isolates the powerful, yet gentle, exfoliating acids. Step 2 controls the alpha hydroxy acid activity and delivers anti-aging actives, nourishing skin, keeping it balanced, smooth, and radiant. Upon neutralizing, a pH flux occurs sending a signal to help stimulate skin's natural collagen production.

Dr. Gross formulated the Alpha Beta® Daily Peel specifically for daily gentle exfoliation with no discomfort or recovery time. Better long-term results will be seen with consistent daily use. First time peel users may apply every other day until skin becomes acclimated.

The technology reduces the size of the water molecules transporting the key ingredients to penetrate deeper for a faster and more optimized absorption.

This product pairs great with makeup –including oil and water-based formulations! It helps hydrate and smooth the look of skin and when paired with our Alpha Beta Daily Peels it creates the perfect canvas for makeup. Pro Tip: When used during the day it can act as a makeup primer for smoother application.

This product is suitable for all skin types.

This serum can be used morning, night or both!
Complete Your Routine
For Fresh, Clear Skin Daily
$39
Smooth wrinkles and increase radiance
$68
Water & sweat resistant sun defense
$42